Animated Objects Theatre Company based in Scarborough, North Yorkshire specialise in large-scale events, outdoor theatre, giant artworks and performance involving professional companies, schools and the wider communitiy. Here you'll find details of our current work and productions, and how to get involved. If you are an organisation interested in working with us, please have a look at our workshops and shows pages for details of what we offer. (photographs by Tony Bartholemew and Animated Objects) Scroll down for details of our ongoing projects
We are currently running a drawing competition to celebrate the Tour de Yorkshire returning to the North Yorkshire coast this year, where entrants have the chance to see their work expanded to giant proportions! The lucky winner's picture will feature at the centre of a huge piece of land art, larger than twice the size of two double decker buses, which will tour the region in the lead up to the race. There will also be a mystery prize for the winner. This project is funded by Scarborough Borough Council as part of their community engagement programme.

The competition is open to all children in the Borough of Scarborough in years 3- 6 (Key Stage 2)

A number of shortlisted entries will also feature as part of the completed artwork.

To give you an idea of how large we mean, here's a picture of 'The Gigantic Jersey' from 2017: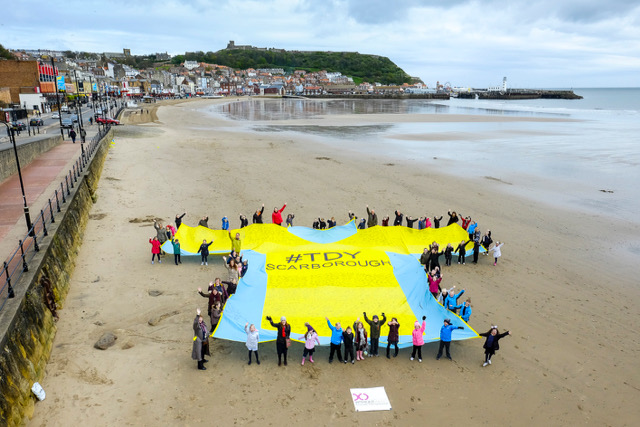 If you would like to enter the competition, please follow the instructions below. Please refer to the guidance notes for competition deadlines and parental consent requirements.
'The Judgement': immersive theatre at the Coastival festival 22-23rd February:
"Olympus is but a memory…
Even the dust has forgotten from whence it came.
But Zeus demands a reckoning."
Look out for us at the Coastival festival in February with our new immersive installation 'The Judgement'. (see social media feeds below for video trailers) We're taking over the Aquarium Top roundabout for the festival weekend to create the interactive piece featuring original soundscapes, moving images and new writing.
An immersive blend of ancient narrative, fresh new writing and a future noir update for the Olympian Gods, placing the audience in the centre of their near future world where you choose which path your experience will take - will you make The Judgement?
The piece last approx. 20 - 25 minutes, and is outdoors, so please dress for the weather. We'll be running performances through Friday evening and Saturday - please visit
www.coastival.com
to book. Tickets are free, but places are strictly limited, so be quick! The venue is fully accessible. There will be moments of complete darkness and occasional flashing lights.
It's been another successful year for Animated Objects, with our events engaging more than 40,000 people as participants and across the region since February 2018. With commissioned projects including 'Stories of Remembrance' to mark the centenary of Armistice, 'The Big Bike Beat Band' for the Tour de Yorkshire and the growing popularity of our lantern parades in Whitby and Scarborough.

We're also delighted to announce that we've been selected to run an extensive series of extra curricular workshop sessions as part of North Yorkshire County Council's Essential Life Skills programme. We'll be delivering workshops across the county, with a real emphasis on rural communities and bringing opportunities to get involved in practical skills.

Our outreach work to schools is as busy as ever, with exciting new projects in the pipeline including immersive projects exploring the impact we have on our oceans; producing a double bill of Shakespeare plays on tour with a primary school in York; and animation projects inspired by the 50th anniversary of the first moon landing. It's going to be a busy year!
Here are a few images from events in 2018: